According to the front page of today's Sydney Morning Herald, a 'buried report' commissioned by the State Government indicated that the proposed $12 billion Sydney Metro line would be a disaster. The article has some logical sounding arguments explaining why the proposed route is unsuitable.
It is my personal opinion that the State Government did not issue this plan in good faith. On a number of occasions, they have announced so-called plans to dazzle the media and boost their popularity with voters, only to scrap them later.
$12 billion is a lot of money. The State Government simply does not have it,  and it would not have the stomach to raise the money through a massive bond issue. They could not even manage to implement a new ticketing system which is a comparatively trivial task. It would be more prudent to fix the problems with the current system, that is used by lots of people, rather than spend lots of money on new poorly planned infrastructure.
I do have a word of advice for the Premier, Morris Iemma. Instead of demonstrating your self-proclaimed "strength of character" by forcing through a power privatisation that nobody wants, why don't you instead deal with the corruption in Railcorp and State Rail, and break the power of the Transport union, so that additional drivers can be hired? Maybe then, our trains will arrive on time.
Yesterday, the Pope Benedict XVI issued an apology for the sexual abuse of children by the Australian Roman Catholic Clergy, at World Youth Day in Sydney.
This was especially prudent, considering Cardinal George Pell's alleged coverup of an assault complaint against a former Catholic teacher, Father Terence Goodall.
Pell's response, where he stated that his letter was 'badly worded'  and that the he believed that the sexual act was consensual, only digs him in further. Correct me if I am wrong, but don't the rules say that clergymen cannot consent to any sexual act?
I will say that the Pope's statement was a positive first step, as it brought some much needed relief to victims for the pain and suffering they have experienced, and undid some of the hurt caused by Pell's actions.
This is not however, a conclusive resolution. In my opinion, that would require the following:
The open threat of excommunication for clergy that perpetrate sexual abuse against children under their care or teaching.
A deterrent requires something with bite – not just a few hail Marys and a transfer to the parish around the corner, so that they can perpeptrate their behaviour elsewhere.
Removing the requirement for clergy to adopt a celibate lifestyle.
The requirement for clergy to adopt a celibate lifestyle and the need to interact closely with young children is by definition going to result in the natural selection of sexually frustrated individuals who get their fix by preying on those who they have power over. In our modern society, I do not see any reason why someone cannot have normal human interactions and remain pious.
Disclaimer: I am neither Catholic, nor religious
I enjoy drinking all varieties of tea. I usually have black tea with one spoon of sugar. I usually drink green tea and white tea plain. The only exception is Moroccan green tea, which is made by taking green tea and adding a fresh mint leaf and lots of sugar. I consider the presence of milk in tea to be an abomination, but this is probably a result of my upbringing.
My favourite supermarket brand is Twinings. Usually, I buy tea in tea bags, but I discovered that loose leaf tea is far better value for money. The other day at my local Woolworths supermarket, I found a large pack of loose leaf Lady Grey for less than half the price of a much smaller pack of teabags.
The traditional problem with loose leaf is that it is hard to make a single individual cup – people usually make a whole pot, which is messy and requires a lot of paraphernalia.
I have solved this problem for myself with the aid of a split-sphere mesh tea infuser (the top utensil in the image below).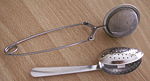 When you want to make a cup, you squeeze the handle, scoop up some loose-leaf tea into the bottom sphere, and then release the handle to close the spheres.
You then put the tea-filled infuser in an empty cup or mug, and pour in some freshly boiled water. You can optionally add sugar, and then stir it using using the handle of the infuser, saving the need for a separate spoon.
Once you've brewed the tea to the desired strength, you can remove the infuser from the cup.
To clean the infuser, hold it over a waste container and squeeze the handle. You may need to gently knock the handle against the side of the container. The bulk of the used loose-leaf tea should fall out in a ball-like mass. Rinse the infuser under a tap to remove any remaining tea leaves.
After many uses, tea residue may build up and discolour the mesh. I found that I could return the infuser to mint condition by standing it in a glass of dilute laundry bleach for a few minutes, then rinsing it under a tap.
I purchased my infuser from the local gourmet tea store T2 for just under $4. They can also be purchased from most tea shops and online.
Hello Everyone,
First of all, I am alive and well. I have been away on vacation recently in the USA. I had naively hoped to return home to better economic news, but it turns out that the opposite is true. The price of oil has continued to climb, more American Banks have become insolvent and the repercussions are being felt worldwide.
Most people have found few things to be positive about, but I can think of one thing. The weak US dollar made my vacation far more affordable. I can't say that I lived or travelled like a king, but I certainly ate like one. Even in the most touristy areas, such as Niagara Falls, I was able to get a satisfying meal for $10. In contrast, last weekend in Sydney, I paid that same amount for a mere tomato bruschetta in a cafe, located on Broadway.
Two things however did annoy me very much about the USA. These are the practices of quoting prices ex-tax and the need to pay an additional tip for table service at restaurants. Tax was usually around 10% and tips averaged to 15%, so the menu price would be inflated by 25% in most cases.
Here in Australia, these practices do not exist. You pay the advertised price and that is that.
I expressed my feelings of frustration to other travellers I ran into, who would often answer "When in Rome, do as the Romans". I did, but I really didn't like it. Here are my main reasons:
Read more