It is a sad fact that antisemitism is rife in the Islamic world, but it is also sad that it is rife amongst Muslims who live in Western countries, and often instilled in their locally born children.
The first Muslim member of the British House of Lords, Nazir Ahmed, was briefly imprisoned in 2009 for dangerous driving. On Christmas Day 2007, he was sending SMS text messages on his phone whilst driving and struck another car, which resulted in the death of a 28 year old man who was the passenger. He pled guilty and ended up serving a trivially short prison sentence of 16 days.
When he was interviewed in Pakistan in April 2012, he blamed his imprisonment on a crazy Jewish conspiracy:
Read more
"Walled In!" is a 10-minute computer-animated documentary, in which the Berlin Wall and the East German-West German border (Inner-German border) have been reconstructed in incredible detail.
It was produced by Deutsche Welle – Germany's international broadcaster.
You can really get a sense of how scared the Communist government was of letting its citizens flee its repression. Amongst the most gruesome booby traps installed inside the no-mans land include:
"Stalin's Lawn" – sheets of vertical metal spikes, usually placed underneath the balconies of buildings that reached over the East German side of the Berlin Wall./li>
SM-70 Antipersonnel Mines – a spring gun that fires lethal shots at defectors trying to climb the wall on the West German side of the Inner-German border.
Also fascinating were the measures taken to reduce the likelihood of the East German border guards defecting themselves.
Here is another link for more information:
This is President Obama's recent speech to the Israeli people – one of the most reassuring he has made to Israelis during his presidency, explicitly acknowledging their right to a Jewish state living in security next to its Arab neighbours, backed by the strongest country in the world [the USA].
I don't know what his true vision or policy is, but this will definitely improve his reputation amongst Israelis and American Jews who have been very anxious about him.
My only reservations are his comments insisting that the Palestinian Authority, led by Mahmoud Abbas, is a partner for peace. I am not so sure. To date, I feel that the only difference between the PA and Hamas is their strategy for eliminating Israel.
Hat tip: Israellycool – "President Obama's Full Speech to the Israeli People"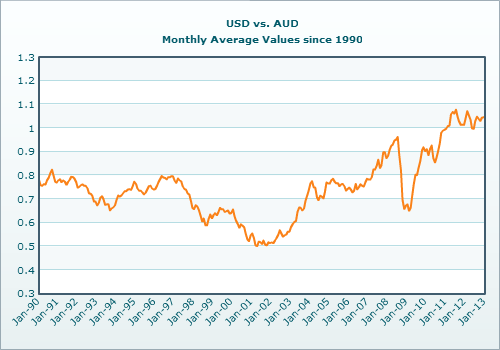 No, the Australian dollar is definitely not overvalued – it only looks that way to some people because it has hovered around US$0.75 for 30 years, but as the world economy has changed over the last few years, so have the values of world currencies relative to each other. This has resulted in the Australian dollar being where it is currently at. In this article, we will explain why.
Read more