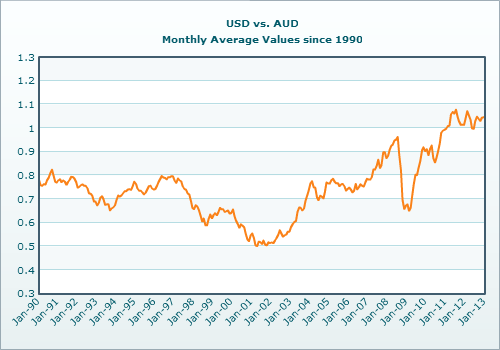 No, the Australian dollar is definitely not overvalued – it only looks that way to some people because it has hovered around US$0.75 for 30 years, but as the world economy has changed over the last few years, so have the values of world currencies relative to each other. This has resulted in the Australian dollar being where it is currently at. In this article, we will explain why.
Read more
There is a Russian proverb – 'when you live beside the graveyard, you can't cry for every funeral'.
Recently in the news, there has been nothing new, just repetitions of the same themes over and over – economic bailouts, corporate fraud and distraction politics. As a result, I have become desensitised and no longer feel any shock.
I will comment on two piece of related news: Bernie Madoff's $50bn Ponzi Scheme and Kevin Rudd's Carbon Pollution Reduction Scheme. How are they connected? They are both scams.
Bernie Madoff's Ponzi Scheme
For many years, New York investment manager Bernie Madoff  operated a hedge fund that consistently returned 12% per annum to investors for many years.
Early this month, it all fell apart when investors wanted out. The fund turned out to be a Ponzi Scheme that merely used new investors capital to pay distributions to previous investors.
This has been described as the "world's biggest corporate fraud by a single individual", resulting in estimated losses of $50 billion US dollars. I personally doubt that he acted alone.
Incredibly, the alarm bells were raised as far back as 9 years ago when an analyst named Harry Markopolous sent a report to the SEC titled "The World's Largest Hedge Fund is a Fraid". It is not clear if the SEC took any action on this.
How did he get away with it? I'm not sure, but he did have many friends in high places – after all, he was a former chairman of NASDAQ.
Regulators generally don't care about small investors, but now that some  rich and prominent people got hurt, perhaps the SEC will start taking corporate transparency seriously.
Kevin Rudd's Carbon Pollution Reduction Scheme
Australian Prime Minister Kevin Rudd set a token 5% Carbon Dioxide reduction target for the year 2020. Expectations were as originally as high as 15% and some were demanding a reduction of 25%.
Clearly, he wanted to maintain his popularity by doing something to appease the Climate Change believers,  but not dare risk anything to further exacerbate our economic problems.
So what was has been achieved by this? Apart from the fact that Global Warming Alarmism is bullsh**, China's own CO2 emission growth will of course outstrip our savings within several months. Even if we ignored China, the flawed computer models (that others believe in) indicate that a much much larger cut would be needed to reverse a warming tread.
Australian Prime Minister Kevin Rudd announced a $6.2 billion dollar package to support the Australian Car Industry. This was after foreign owned car manufacturers announced plans to shut down local production in the wake of the global financial crisis.
$500 million of this money will be set aside for a 'Green' car innovation fund, to produce environmentally friendly vehicles.
The intentions of this plan are certainly noble. Australia has a proud history of automotive production. The industry employs many people who hold a lot of valuable know-how.
These are the problems I see with the plan:
1. It's a large amount of money and it may only temporarily defer the problem. Foreign manufacturers will milk the government funds, artificially boosting their profits, then shut down the factories when the money has been exhausted.
2. Australian automotive tariffs are set to fall from 10% to 5% making it harder for our local industry to remain viable in the presence of low cost German, Japanese and Korean imports. Would we be merely sustaining an uncompetitive local industry out of pride?
Here are some possible alternatives:
1. Assist Australian entrepreneurs in buying out the local arms of these manufacturing firms, to ensure that the industry is under Australian ownership and that profits remain in this country.
Perhaps a new Australian company can focus on producing low cost, energy efficient vehicles that would offer something unique and provide a competitive edge on the market.
2. Use the money to pay for redundancies for these workers and retraining to allow them to get job in other industries where their skills can be adapted, e.g. Agricultural technology, military vehicles
What are your thoughts? Your comments are most encouraged.